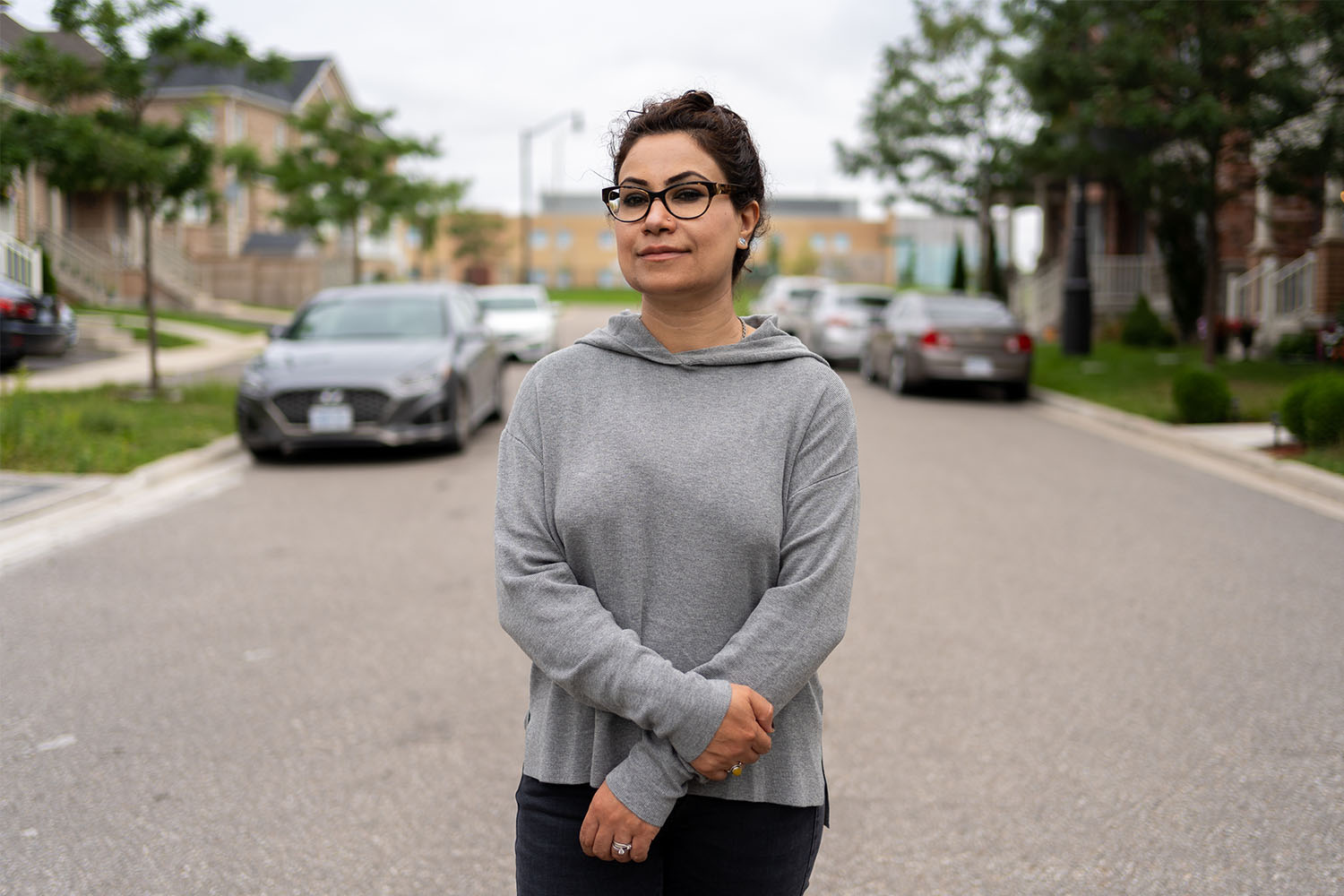 Balwinder Kaur had never once considered a paying job, but circumstances had other plans.
The 42-year-old mother of two moved to Canada from India with her husband in 2012 and settled into a basement apartment in Brampton, Ontario. He took on several jobs—truck driver, Uber driver, part-time labour organizer—to make enough money to buy a house and pay the mortgage. Two years later, he got sick. His health deteriorated rapidly over the next few years and kept him away from work.
So in 2016, Kaur went out and got her first job at the age of 37. In the kitchen of a restaurant owned by her husband's friend, she worked 12 hours a day for less than minimum wage. At the same time, she began taking English lessons and got a driver's licence. Eventually, someone told her to go to an industrial baker because they paid better, and in cash, so she called the temp agency they suggested. The agency sent over the paperwork and walked her through each page over the phone.
Kaur has been working there ever since, joining fellow immigrant women who have worked at that facility一and other manufacturing and processing facilities across the country一for years if not decades.
When Kaur's husband passed away in 2019, she took on a second job at a chocolate packaging factory for several months to meet the costs of life as a single mother of two. Her mother had just moved to Canada and her permanent resident application cost $7,000. There were also her mother's medical expenses, her daughter's braces, mortgage payments, car insurance, university savings for her kids and more. Her widow's pension was barely $700. Today, Kaur's total annual wages from both jobs is around $30,000.
"I don't have a choice," she said in a phone conversation. She isn't sad when she says this; working two jobs is exhausting, but Kaur needs the money to support her family. She isn't emotional at all. It's just a matter-of-fact, her reality.
During the pandemic, working immigrant women briefly came into the spotlight as the hardest-hit faction of Canada's labour force. Employment rates for immigrant women aged 25 to 54 who had arrived more than 10 years ago fell by 12.2 percent between May 2019 and May 2020. In comparison, rates for immigrant men dropped 8 percent and Canadian-born men and women fell just 7 percent. In the hospitality and retail trade industries, 142,000 and 132,000 more women were unemployed, respectively, in 2020 than in 2019.
But those statistics don't tell enough of the story. They don't capture the sacrifices of the dozen women The Local spoke with—workers who came from Jamaica, India, Romania, and Pakistan—who have worked at their jobs for years. The numbers don't show how each woman helped dozens of other immigrant women find a job and keep it, by offering them childcare, hot meals, carpools, protection from harassment, or medical attention. The data doesn't tell you these women have used the wages from these hourly, low-skill, high-risk jobs to take care of five family members on average, in Canada and abroad.
"In Canadian society, there's this myth of upward mobility and social mobility, that work ethic plus good moral behaviour equals upward mobility," said Amanda Watson, a lecturer of sociology and anthropology at Simon Fraser University. "But in reality, there are generations of women doing the same work for many, many years across our economy."
Collectively, the women The Local spoke to average a mere four to five hours of sleep every day, and have averaged that for too many years.
"These women are not just an employment number, an injury number," said Andria Babbington, an immigrant from Jamaica and a former hotel worker who was recently elected to lead the Toronto and York Region Labour Council. "These women are real human beings with dreams and aspirations."
"We're not looking for pity," she added. "Every sweat, every cut was us helping build this country. The only thing we want is respect and to be treated as another person, as a human being, as a Canadian that matters."
Avtar Aulja's first job as a newly-married 19-year-old immigrant to Canada was at a farm somewhere in Vaughan, Ontario, in the 1980s. Her sister-in-law, who had moved here a year earlier, got her the job—not much different from the work she did at her own family's farm in the small Indian town she left behind. There, Aulja worked all day from 8:30 a.m. to 7:00 p.m. in rain or sunshine.
When she was laid off a few months later, she found a job with a packaging company. An immigrant woman in her Toronto condo building told her the company was hiring and gave her an application. She filled it in and got a job she'd do for the next few years on a production line making bottles.
Work was brutal, Aulja recalls. During the eight-hour shifts, there were no breaks, no time to look around. There was no education about safety back then, no paid sick leave. There were days Aulja worked from 8:00 a.m. to 11:30 p.m.
The bus service to her afternoon shift was "horrible," with the stop a 20-minute walk away from the facility. Aulja earned $4.65 an hour; bus fare from Toronto to Vaughan was around $2 one way. When it rained, she and her co-workers—the majority of whom were also immigrant women from Asia, Latin America, or Africa—often missed the last bus and then had to call relatives or friends to pick them up. They couldn't afford a taxi and none of them had a driver's licence.
When Aulja and her husband moved to a house in Brampton, she was able to enroll herself in a secondary school as a mature student. She still needed to work so she just walked from company to company with "We're hiring" signs in their window and filled out applications. All of them were seeking general labour: it didn't matter if you spoke English or had any skills. She found a job with another packaging company and worked there until her son was born.
Aulja was lucky. She was able to go to college where a teacher connected her to an airport program that gave information to new immigrants. She worked there for several years before getting a real estate licence. She decided to run for politics and became Brampton's first South Asian city councillor, serving from 2000 to 2003. Meanwhile, there are women she worked with who are still in the same factories and facilities.
"The last time I was in a factory was in 1989, and nothing has changed," she said. "In fact it's gotten worse."
There are more immigrant women working in Canada's economy today than when Aulja was part of that labour force. And getting a job has become harder: where Aulja just knocked on company doors, women today are often forced to work through agencies, which are increasingly exploiting workers coming to them.
The dozen workers who spoke to The Local spoke about how most of their colleagues were like themselves—racialized women who had come to this country in hopes of a more stable and well-off life. Many of them came as dentists, doctors, university professors, engineers with big aspirations of pursuing their professions here. But circumstances led them to low-income jobs that are vital, yet underappreciated in the Canadian economy.
Seema Noreen came to Canada in 2015 with a double master's degree from Pakistan. She came via Italy, where she was studying Parkinson's and Alzheimer's diseases on a molecular level on scholarship. Her research brought her here after a University of Toronto professor sponsored her to continue her work. A year later, she decided she wanted to do her PhD and tried to find funding to expand the scope of her study. She asked every biotech company she could think of, applied for grants, and tried every other channel. Nothing worked.
She started applying for every bio-laboratory she could find with a job posting. "I threw my resume all over Canada and got nothing," she said. The two responses she did get told her that she was overqualified and not a Canadian citizen.
Her husband found a cashier job at Walmart and sent it to her with the message: "I know it's not suitable for you."
"To survive, you have to work. And just to survive, I started working with Walmart," Noreen said. "Several years later I'm still with Walmart and I've stopped applying anywhere else."
Noreen struggled to accept her job for a long time. She hid her educational background from her colleagues, but then learned that there were others like her. She wishes she had more support, more acceptance in Canada for her childhood ambitions.
"I needed a door-opener," Noreen said. The only door that opened was Walmart's. She's grateful and has moved up from cashier to management.
According to one study, immigrant women in the retail and accommodation service sector were more than twice as likely to hold bachelor and postgraduate degrees than Canadian-born workers during the pandemic. Their higher levels of education, however, did not protect them from being more likely to lose their jobs. University-educated immigrant women experienced the largest unemployment rates, 12.6 percent, in May 2020.
The pandemic may have made their struggles more visible, but these women have long been silently working in the background in jobs they are much too overqualified and underpaid for.
"What choice do we have?" Noreen said.
Noreen, Aulja and Kaur are part of Canada's invisible workforce: immigrant women in behind-the-scenes sectors of our society like caregiving, processing and manufacturing, hospitality, farms, cleaning, and more. While often perceived as little more than statistics and cautionary tales about precarious work, these women serve as the backbones of their families and their workplaces. They are breadwinners, mothers, international financial support systems, caregivers, lunchroom supervisors, providers of home-cooked meals for anyone who needs one.
Unfortunately, they are also women who've had to abandon their dreams.
In Romania, Carmen Curca was a horticultural engineer and teacher. There, she saw advertisements for Canada that told her that people with higher education could find good jobs. When she arrived in Ottawa, in 2003, she sent out resumes to every daycare and school she could find. She heard nothing.
After a month, her building's administrator asked if she'd take a part-time job as the building janitor, though she recognized Cuca was over-qualified. Cuca said yes. On her first day, she cried while she cleaned.
"Look what I had become. I was a teacher back home and I came here and started cleaning the floors. It wasn't easy," Curca said. "It wasn't about pride. It's about knowing you can do more than that but no one gives you the chance to show that."
In the months that followed, Curca would become a part-time administrator for her ESL classes. Her neighbour from Azerbaijan got her a job at a People's Jewellers store in a mall. She moved to Whitby and decided to get a diploma in environmental technology from Durham College to help her find a footing in the career she once had. She applied for jobs for two years after she graduated in 2009, "non-stop, every day." No one gave her a chance.
One day, her husband heard Canada Post was hiring on the radio. She applied to become a letter carrier and got the job in November 2011. This November will mark 10 years with the postal company.
"I have a good life, I can't complain," Curca said. Her daughter, who was four years old when they arrived, will finish a degree in computer science soon. Her son is in grade 12.
"But I have this one regret: I never found a job to be proud of," she said. "I'm sad because I'm not completely satisfied with myself. I don't have a life-fulfillment."
"In retrospect it hurts," she said. "You come here with so much hope, but the speed with which you go from being a possible somebody to a nobody—it hurts. But this is life and unfortunately life is unfair."
Curca said that she, like all the other immigrant women she has encountered and worked with over the years, is resigned to her fate. They spend their spare moments volunteering, improving their English, setting up side businesses in baking and cooking—anything to support themselves and their family and to feel independent purpose and value.
"We can't do anything more," she said. "We're willing to do anything to take steps forward but at some point there's nothing more we can do."
All the women The Local spoke to worry that Canadians don't care about them—that when they do see them, they're perceived solely as helpless, tired labourers. There's deep pain in their voices when they talk about their lives. Not only did they have to sacrifice their dreams, they also had to sacrifice their place in the society they thought would lift them up higher. By their count, they have done more for their community, and each other, than Canadian society has done for them.
Take Andria Babbington. Her life in Canada began in 1984. She was 16 years old when her father died in Jamaica and she decided to move in with her older sister in Toronto. She was raised with her five brothers, so the possibility of bonding with a female sibling was thrilling.
"When I came here I found she was trying to get by with her family [of four] and I became another breadwinner," Babbington said.
Her sister urged her to find a job and help support the family. An in-law referred her to the Sheraton Centre, a hotel in downtown Toronto. Babbington called to see if they were hiring and got the job. On her first day, the manager gave her a tour of the hotel; Babbington was awed by the luxury. She was the youngest woman working there. "Welcome to the club," the women said to her.
Babbington was in housekeeping—the first stop for a lot of immigrant women. They all soon learned they were dispensable, and treated as such. A few days after she started, a manager told Babbington that if she didn't like the way they treated her, she could leave. "This is a revolving door. Someone else will come," they told her.
The other women treated her like their own child. Despite the burdens they carried, they would stop by after work to see if Babbington needed anything or escort her to check out to make sure she didn't work more than she was being paid for. "I needed the job and had to pay my way here," Babbington said. "I didn't have a choice. All these women helped me by making it their responsibility to help me get through work."
Babbington's co-workers had arrived in Canada with multiple children and thought they'd start at the hotel and move on. But it was a secure job, and a few months of work at the hotel didn't give them enough money to move to something new. For these women, starting over wasn't practical, Babbington said. They had to stay for the family they had brought here and the ones they'd left back home, hoping they'd make all their lives better.
Some of them are still at the hotel today, over forty years later.
Carolyn Egan, president of the Steelworker Toronto Area Council, which represents 14,000 members of the United Steelworkers in Toronto and York Region across manufacturing, health care, post-secondary, banking and other service industries, has observed this camaraderie too. Many of the immigrant women Egan represents have been in their jobs for 20 to 30 years. She has watched them grow and find their voice. Today, they are organizing for better pay, better work conditions, running for the shop steward and other union positions, and pushing back against government policy.
"These may be the jobs that a lot of women find themselves in, but together, they've become more confident in the workplace," she said. "It's not paradise, but they've taken huge steps forward for women."
Babbington concurs. When she looked around at the women who worked with her at the Sheraton Centre, she saw so much sadness in their faces. They would gather for choir practice after work and someone would share a poem or a personal story and there wouldn't be a dry eye in the room. When they went home, they'd fall asleep on the couch, unable to take their kids to the park or attend parent-teacher meetings. Despite all their aches and pains, rough hands and heavy heads, they'd be back at work the next day.
"This dream that they have when they come into this country is getting further and further away. That's what makes them sad," Babbington said. "These women were not invisible in their home countries. We all came into a country where our skills weren't valued and we were made to look invisible."
"We're the backbone of every business," Babbington added. "We're unstoppable because we don't quit. We were raised to take care of people."
"Maybe we're not invisible. Maybe we're just too tired to realize how important we really are to Canada."