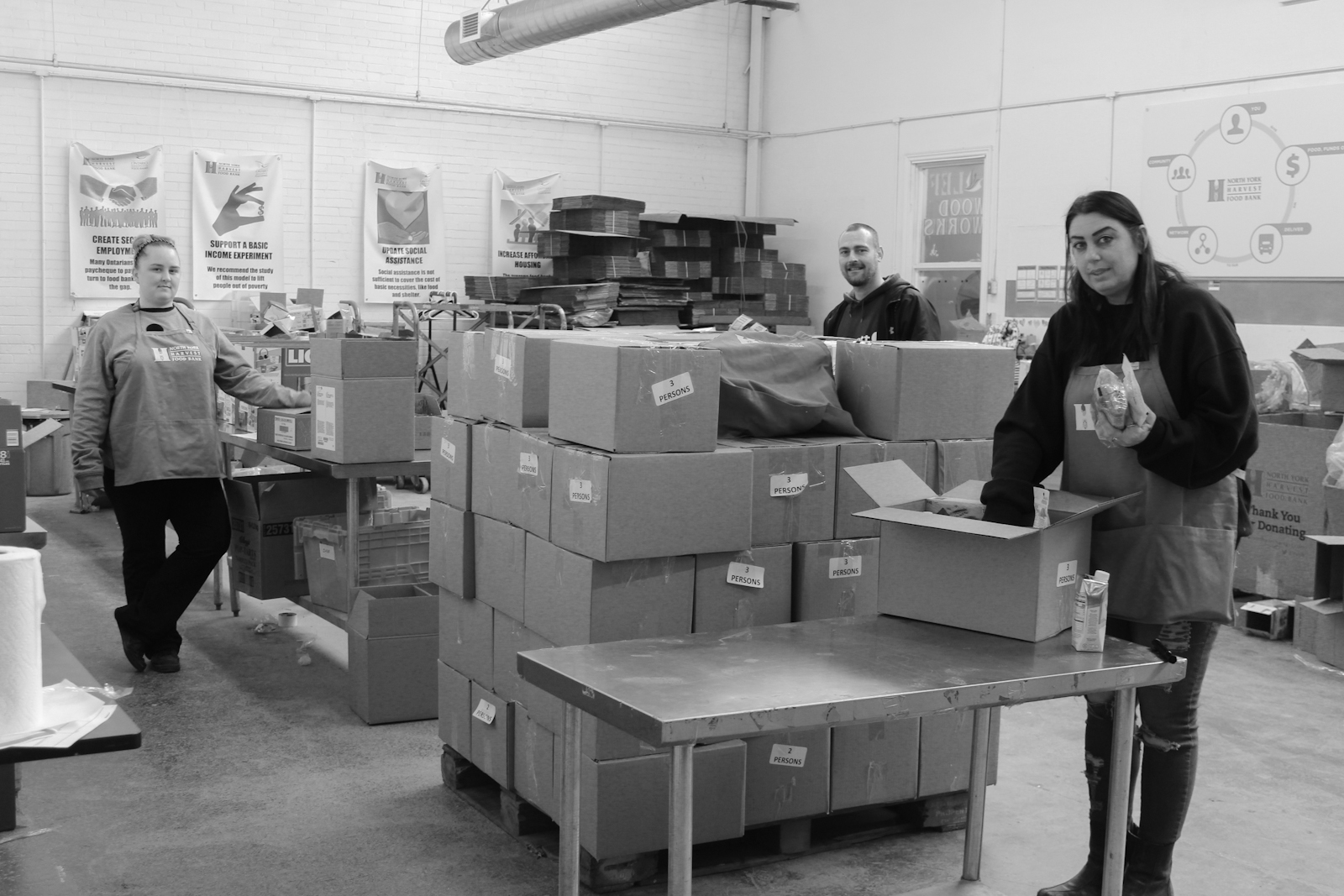 An eerie calm has settled over the usually bustling Lawrence Heights neighbourhood, home to the largest redevelopment project by Toronto Community Housing (TCH).
"I rarely see people, just cars. Even the construction sites are very quiet," says Elena Korniakova, one of the co-founders of the Lawrence Heights Arts Collective.
The collective's studio is next door to the Lawrence Heights location of North York Harvest Food Bank, one of the primary food banks that serves northern Toronto, providing food to roughly 24,000 people every year. "I know about thirty people who use the food bank," says Korniakova, from seniors to large families to young people who work precarious jobs. "Today even the food bank is quiet."
That's not because of a lack of demand, but because, like everyone else, food bank staff are scrambling to adapt to the new reality of life under lockdown.
It's a domino effect. The pandemic has shuttered businesses, leaving countless Torontonians unemployed. Food banks are noticing a dramatic increase in new clients, and the numbers are expected to skyrocket in the weeks to come. Meanwhile, with the city in a state of emergency, many food bank distribution sites have closed for safety reasons. Volunteers, many of whom are at-risk people dependent on the food banks themselves, are staying away. Keeping the pantry full and reducing grocery store trips is on top of mind for many people. However, for the food insecure—who can't stockpile weeks worth of groceries—the situation can quickly become dire.
The closure of distribution sites has been one of the biggest challenges for food banks, says Sarah Watson, director of community engagement with North York Harvest Food Bank. The organization works with forty agencies to run a range of food-based programs, among others initiatives. More than half of their partner agencies had to close their doors since the provincial government's state of emergency announcement on March 17.
Food bank distribution sites often run out of city-run community centres, churches, or TCH building lobbies, and there are valid public health concerns at these spaces during a pandemic. Take North York Harvest's Rexdale site, which was run by volunteers and served about a thousand people a month before it was shuttered two weeks ago.
"It's run by community members who are also food bank users, so it's run for and by the community," says Watson. "It doesn't have the space for people to social distance."
Because Lawrence Heights is one of three sites run by North York Harvest Food Bank staff, it has remained open (along with sites at Don Mills Road and Sheppard Avenue and Bathurst Street and Finch Avenue). The hours have been reduced so that staff can be rotated through their sites. And rather than allowing families to choose their own food, they're now given pre-packed food by appointment in order to reduce physical contact.
Food banks are noticing a dramatic increase in new clients, and the numbers are expected to skyrocket in the weeks to come.
In the coming weeks and months, as the effects of the coronavirus pandemic filter out across the city, figuring out the logistics of getting food to people in low-income neighbourhoods like Lawrence Heights will be vital. North Toronto is vastly underserved and under-supported compared to the downtown core, according to Watson. "As more and more people can't afford to live downtown, poverty is moving to the inner suburbs," she says. "But the support is not increasing at the same speed. Between 2008 and 2016, Toronto's inner suburbs saw a sixty percent increase in food bank use."
And as the lockdown continues, the number of people in need of food banks will increase. The Daily Bread Food Bank, in downtown Toronto, serves 15,000 families each week. They saw a 12 percent increase in clients two weeks ago, and a 20 percent increase last week.
"What I think will happen is that as paychecks don't come through next week or week following, that's when a pilot laid off of WestJet is going to have to make the difficult decision to feed the family and come to the food bank," says Daily Bread's CEO Neil Hetherington.
Besides threatening the already precarious balance that many Torontonians maintain to live in this city, the pandemic is presenting other side effects.
"There is tremendous staff anxiety. We don't have staff or volunteers who are trained as an essential service," says Hetherington.
The City of Toronto is working with several agencies to come up with a sustainable strategy to address the needs of those who rely on food banks, says Vera Dodic, manager of community development at the City of Toronto.
"With the magnitude and urgency of the situation, rather than dealing with each food program separately, city staff focused on developing a multi-pronged strategy that takes into account the city as a whole," says Dodic.
They are working to identify areas of the city with limited or no access to food programs and trying to fill gaps with alternate locations or strategies. Libraries, for example, are now being used as pop-up locations to distribute food, says Hetherington.
"For every two-three sites closures, we will find a library in a central location, where pre-packaged food will be delivered in a safe fashion," he says. "It will be outdoors. It will be done by librarians."
North York Harvest Food Bank is also using a pop-up strategy to address the closure of its Rexdale site, so that a thousand people aren't out of options, says Watson.
In midst of daily doom-and-gloom news updates, the crisis has also brought inspiring moments. Hetherington recalls a recent exchange at the Daily Bread Food Bank warehouse with a contract employee who takes care of pest control.
"I was operating a forklift, and he asked me if I was new. He'd never seen me before," says Hetherington. When Hetherington introduced himself and said he was CEO, the man asked how he could help. "I told him, you are helping by doing your job," says Hetherington. When the man pressed, Hetherington suggested he could always volunteer.
On Saturday, the man was back at the warehouse. "He just started picking up boxes, doing what we were doing," says Hetherington. "I was just touched by that guy. He did not need to come in to volunteer his time. He came in because he knew it makes a difference to thousands of people."
Visit North York Harvest, Daily Bread, or Second Harvest to learn more about how you can donate.