By most measures, Toronto is a safe city. Its crime rate in 2021 was lower than any other major Canadian census metropolitan area except Quebec City. In fact, Toronto's violent crime rate peaked in the early 1990s. Last year, 71 people were murdered within the city. To put that figure into perspective: Winnipeg had 53 murders in the same time period, but has a population seven times smaller than Toronto's.
Yet concerns about public safety dominate the Toronto mayoral election. Several tragic murders on or near the transit system, including the stabbing of 16-year-old Gabriel Magalhaes at Keele Station in March, have shocked Torontonians. So have multiple "operator swarmings" and firework detonations inside TTC buses, as well as frequent anecdotal reports of disruptive behaviour by passengers.
Unhoused or mentally ill people have frequently been blamed for these incidents, although both populations are far more likely to be the victims of violence than they are to inflict it. These communities are facing their own severe public safety risks: a lack of outreach services, an opioid epidemic that killed over 500 people between 2021 and 2022, and a city that is increasingly hostile to unhoused people taking shelter in subways, public parks, and streets.
The six mayoral race frontrunners—Olivia Chow, Mark Saunders, Ana Bailão, Josh Matlow, Mitzie Hunter, and Anthony Furey—characterize Toronto's public safety concerns in very different ways. Some emphasize violent crime on the TTC, while others point to the dangers of drug overdoses, discarded needles, or living on the street. But nearly all of them suggest too many Torontonians are living in fear for their own safety.
"We cannot normalize the violence happening on the TTC and in our communities. Enough is enough," wrote Saunders, former Toronto police chief, on his campaign website. Chow, a long-time former city councillor and MP, points out Torontonians are frequently stuck on hold when calling 911 for help, especially for mental health crises. And Ana Bailão, Toronto's former deputy mayor, believes repeat violent offenders are routinely passing between courtrooms and the streets, threatening everyone.
Public safety is a political lightning rod. It also happens to be one of Toronto's most complex public policy problems. Reducing TTC violence, deaths from overdoses, or mental health crises on Toronto streets requires more than just an eagerness to enforce the law. The next mayor will need to address all of the reasons Torontonians end up in danger in the first place.
Newsletter
Sign up to our free newsletter to get upcoming Finch West and other stories delivered to your inbox.
Violence and harassment
In spite of all the concerns around TTC safety, Toronto is seeing a marked decline in serious violence. Take Lawrence Heights, in northwest Toronto, a neighbourhood with a reputation for gun violence. In the summer of 2019, police investigated 7 different shootings in the neighbourhood in just 15 days. When Louis March, founder of the Zero Gun Violence Movement, recently visited the neighbourhood, one of the Movement's associate organizations told him they hadn't logged a single shooting throughout all of 2022.
This isn't an isolated event. "If you look at crime over the last 10 to 15 years," March says, "the numbers have come down." Some crimes have seen a noticeable jump between 2021 and 2022, the most recent time frame for which full annual data is available. According to Toronto police statistics, car theft rose a whopping 46.8 percent, assaults rose 10.4 percent, and robberies rose 27.2 percent. However, during that same timeframe, homicides dropped by 16.5 percent.
March's point also applies to TTC crime. According to a community safety and security update dated June 12, the TTC's chief security officer says overall security incidents against riders actually dropped by 36 percent since January, although month-by-month incident rates fluctuate based on the system's total ridership. For example, the total number of "major crimes"—which includes robberies, violent crimes, and sexual assaults—reported across the entire TTC system went from 177 in January to 220 in May. (The data itself only tracks incidents reported to police, not actual convictions.)
Torontonians seem fairly concerned about their safety on the TTC. In April, just 54 percent of riders were satisfied with the safety of the system. And to some candidates, like Saunders and Furey, concerns about transit safety call for more boots on the ground.
Saunders promises, if elected, to hire 400 new Toronto police officers and at least 200 TTC special constables, beef up the latter's mental health training and equipment locker (including body cameras), and use officers to prevent loitering on TTC property. Eventually, he hopes to introduce new "assist buttons" on subways, buses, and streetcars, improve lighting and camera feeds, and work with local school boards to ensure students are educated about transit safety.
Meanwhile, Furey, a former Toronto Sun columnist, promises to go even further by hiring 500 new Toronto police officers and giving TTC special constables tasers "to deal with threatening people, not injure them." In actuality, tasers have been linked to numerous deaths over the years, including 30-year-old Clive Mensah, a Mississauga man with mental health issues who was killed by Peel Regional Police officers in 2019.
See All 102 Mayoral Candidates
Candidate Tracker has fact-checked biographies and platform summaries for every name on the ballot. Also available in print at your local library.
Read More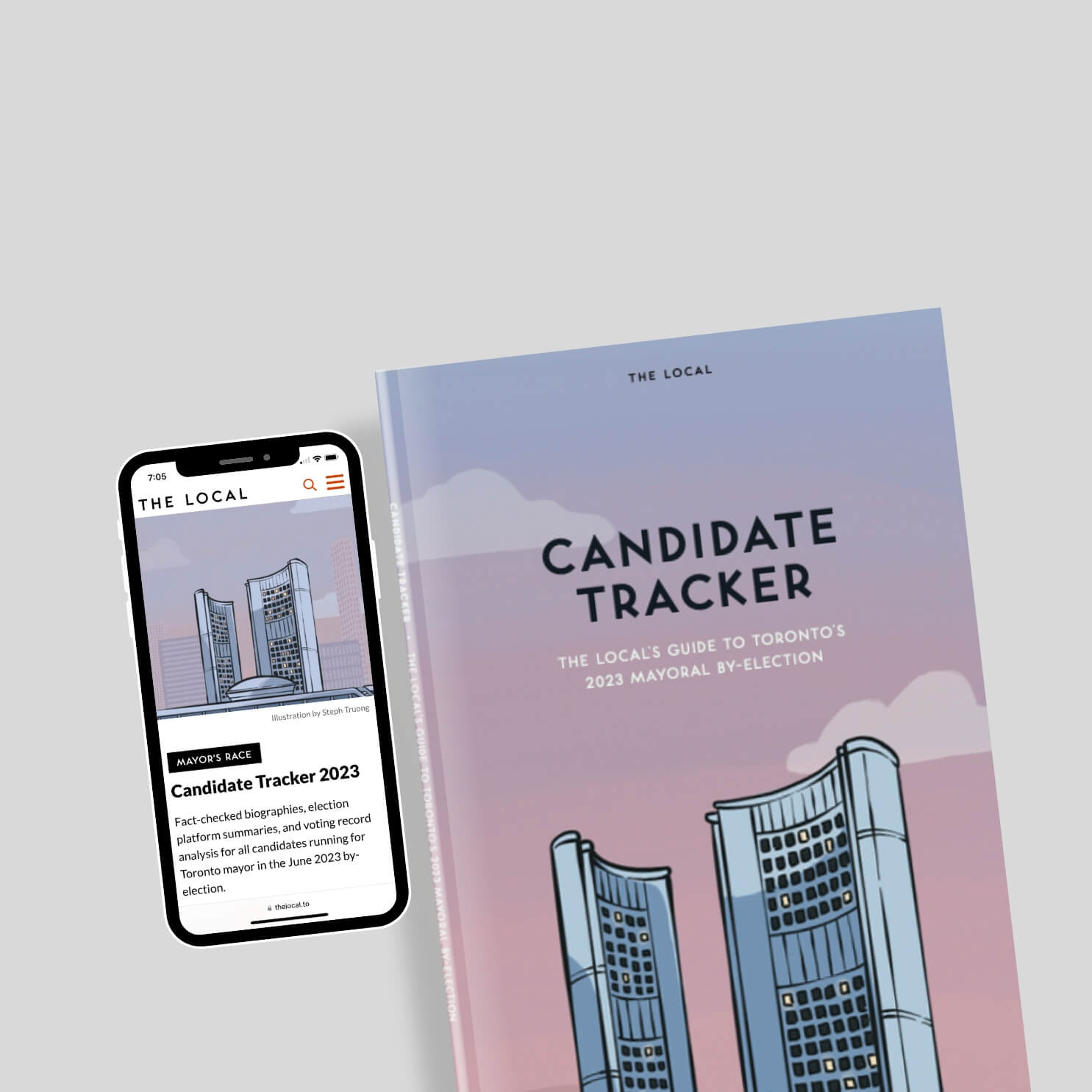 Adding more boots on the ground is one possible way to address disturbances and violence, but "if we just assume that we can arrest or we can incarcerate our way out of this, the criminological research actually does not support that," says Maria Jung, an associate professor at Toronto Metropolitan University's department of criminology. An arrest doesn't address the underlying issues—like poverty, addiction, or untreated mental illness—that lead to crisis in the first place. "If we just look at those incidents as problems in and of themselves to solve," Jung says, "it's almost like trying to turn off the check engine light without actually checking the engine under the hood."
Other candidates are taking a middle-of-the-road approach to the issue. Bradford is proposing a relatively modest hiring increase of 40 new TTC special constables, plus 68 new Toronto police officers to handle bail compliance. Bailão wants to increase TTC staffing and improve security measures, and Hunter wants to deploy social workers and community ambassadors on the TTC. "Hiring hundreds of transit officers to give tickets to people experiencing homelessness who cannot pay the fines and move them off the TTC only to return solves nothing and creates tens of millions of dollars in salary costs," Hunter's platform reads. Both are also in favour of police funding remaining stable.
Saunders and Bailão also support the idea of legal reforms to make it harder for suspects accused of firearms-related or violent offences to receive bail. The city has no control over changes to the Criminal Code, or bail proceedings. The federal government is already working on legislation—Bill C-48—that will effectively require repeat offenders to prove why they should be released, rather than the Crown proving why they should be kept locked up. This bill came out of pressure from provincial leaders, as well as the opposition Conservatives, and police chiefs, after Statistics Canada data suggested violent crime had risen by 32 percent since 2015.
Saunders claims that of 772 suspects released on bail for gun charges in 2021, 165 were later arrested while on bail for more firearms-related charges. "Toronto continues to see a deplorable number of incidents of gun and gang violence, and far too often, they involve individuals who are out on bail at the time," he says on his website. However, as March points out, a significant majority of suspects adhere to their conditions. When they don't, it's usually because they don't show up in court, not because they're arrested on more gun charges.
The last two frontrunners—progressive city councillors Chow and Matlow—take very different approaches to violence and disruptions on the TTC. Neither are big fans of the police. In 2020, Matlow brought forward a motion alongside then-councillor Kristyn Wong-Tam to cut the police budget by 10 percent; the following year, during Toronto's high-profile encampment evictions, he was one of the force's strongest critics. He proposes diverting $115 million from the Toronto police budget, which currently sits at $1.16 billion, for three years to start the Community Health and Safety Fund. This initiative would provide mental health and addiction services, improved shelter beds, eviction prevention, safe spaces for at-risk youth, recreational programming, and job training. "This transfer of responsibility from the police to community-based professionals will provide a better balance between enforcement and vital supports that address root causes of crime," Matlow's website reads.
Chow, meanwhile, has frequently criticized police brutality throughout her long career in politics. In 2000, she resigned from Toronto's police board after criticizing the actions of officers who broke up an Ontario Coalition Against Poverty rally at Queen's Park.
Her platform doesn't mention policing, although it does promise to add more TTC staff to be the "eyes and ears of the system." Chow also wants to expand the Toronto Community Crisis Service, a network of crisis workers who respond to mental health calls made to either 911 or 211, as does Bailão. Currently, the resource only serves about 60 percent of Toronto. She wants to take it citywide, and better divert non-emergency calls from the police. This is something Toronto's auditor general wants, too, saying in 2022 that 40 percent of low-priority calls made to 911, including well-being checks and disputes between tenants and landlords, could have been handled by someone other than the police.
Drugs and supervised consumption
On top of violence and harassment, the overdose crisis is a major part of Toronto's public safety conversation. In the last five years, 2,247 Torontonians have died from opioid overdoses alone, according to Toronto Public Health. "This is primarily an issue of an unregulated drug supply," says Gillian Kolla, a Banting postdoctoral researcher at the Canadian Institute for Substance Use Research.
Simply put, Kolla says, drug users don't know the ingredients or potency of the drugs they're taking. With methamphetamine, a large enough dose can lead to aggression or confusion, which can be disconcerting for bystanders to witness even if they are in no danger. In the case of fentanyl, an overdose can easily kill a user. But Kolla points out that much of the concern around visible drug use is more about discomfort, not danger. It may be tempting to think about these drugs as inherently dangerous, but Kolla points out that the government regulation of an equally dangerous substance—alcohol—has made it socially acceptable worldwide.
In 2017, Toronto opened its first permanent supervised consumption site to ensure drug users didn't have to use alone, and could immediately access treatment if needed. And earlier this year, the city of Toronto updated a request to Health Canada to do what experts and advocates (including Kolla) have long said would improve the safety of drug users— decriminalize minor drug possession for personal use.
Candidates like Matlow agree with this approach. "The debate about whether or not to decriminalize drugs should be facts-based, objective, and we should follow the experts' guidance," he told CBC News earlier this year. His previously mentioned Community Health and Safety Fund would include funding for addiction support, although Matlow's campaign platform doesn't say how much.
Although her platform doesn't mention drug decriminalization (or even harm reduction policy more broadly), Chow has supported Toronto's decriminalization request. The same goes for Mitzie Hunter, Brad Bradford, and Ana Bailão, according to the Star. The only two major candidates who've opposed the decriminalization request are Saunders and Furey, both of whom say they'd prefer to see resources devoted to treatment rather than harm reduction.
In fact, Furey has gone so far as to promise he will phase out all supervised consumption sites in Toronto and replace them with treatment centres. His first campaign announcement suggested Toronto was quickly turning into San Francisco—a nod to a popular right-wing belief that the California city is succumbing to a tide of drug-fuelled lawlessness. "A compassionate society doesn't keep people on drugs. It helps them get off drugs," Furey writes.
This idea that harm reduction and treatment are at cross-purposes strikes Kolla as nonsensical. "I think that all the experts you'll talk to will say that we need both," she says. "We need very easily accessible, evidence-based treatment options for people who would like to access those,"—like buprenorphine and methadone, as well as other addiction support services—"and we currently don't have that."
Reducing TTC violence, deaths from overdoses, or mental health crises on Toronto streets requires more than just an eagerness to enforce the law.
Furey also proposes expanding involuntary treatment as a way to force more users to quit. Ontario law does allow a physician to force someone into treatment, but Furey says the system "does not currently encourage" this approach and that doctors want to see it used more often. "Furey will see that City Hall pursues a coordinated approach that facilitates a greater volume of mandatory treatment," his website says.
Lorraine Lam, a member of the Shelter Housing Justice Network's steering committee, and a frontline social worker, says she's worried about the possibility of a mayor using strategies similar to those in Alberta. The province has, under its current government, deemphasized the role of supervised consumption sites—a health tool backed by decades of scientific research—in favour of abstinence-based, and even involuntary treatment. Opioid addiction is famously resistant to detox that doesn't involve the use of opioid dependence medications, with numerous cases of users dying almost immediately after leaving residential treatment because their cravings hadn't subsided, but their tolerance had.
"I'm terribly worried that they're going to consider that as part of the addiction strategy," Lam says, "because we know it doesn't actually work." According to Health Canada, Alberta has one of the highest rates of opioid-related hospitalizations in the country. It also ranks along with Ontario and British Columbia as having among the highest provincial opioid death rates.
Saunders, for his part, supports the continued use of supervised consumption sites, but claims they represent a danger to nearby communities and calls for more aggressive needle clean-up, including a "zero tolerance" policy towards needle disposal outside of supervised consumption sites. On his campaign site, he claims many families keep naloxone kits at home because they are afraid of their children accidentally injecting themselves.
"Some of the drugs are so potent, touch-transmission can severely injure someone, especially a child," his website reads. This isn't true: the idea that simply touching a surface with fentanyl on it will cause an overdose is one that has been widely debunked by health practitioners. The sites themselves also tend to take care of their own needles, according to Rebecca Haines-Saah, an associate professor at the University of Calgary's department of community health sciences who studies drug policy.
By and large, she says, both supervised consumption sites and their users take pride in their facility. If needle littering becomes an issue, the city could invest a little more in pickup, but Haines-Saah says there's far more attention paid to the spectre of needles than the people who use them. "The dirty needle is always seen as a threat," she says. "I don't know why more people are worried about their child seeing a dirty needle than potentially seeing an overdosed person in the street."
Local Journalism Matters.
We're able to produce impactful, award-winning journalism thanks to the generous support of readers. By supporting The Local, you're contributing to a new kind of journalism—in-depth, non-profit, from corners of Toronto too often overlooked.
Support
Community supports
Before 2023's concerns about TTC violence, the presence of growing homeless encampments in parks was seen as the biggest threat to public order in the city. Thanks to a lack of shelter spaces, concerns about COVID-19 infection, and a completely inadequate response to soaring rent prices, more and more unhoused Torontonians were pitching tents wherever they could find the space.
Many encampment residents did not have adequate access to supportive housing, as well as mental health or addiction treatment. Unhoused Torontonians also have lower life expectancies as a result of living in precarious (or no) shelter. As the Toronto Star reported in March, the median age of death for homeless men in 2022 was just 55. For women, it was 42. "I think their living conditions are violent," Lam says.
For encampment residents, living together created a form of safety in numbers. Former Toronto mayor John Tory saw it differently. He felt the existence of encampments presented a danger, not only to residents, but also to park goers and nearby homeowners. Numerous encampments were violently dismantled in 2021; while some continue to exist, many former residents are now scattered. Some sleep on TTC property, pitch tents in parking lots, or sleep in ravines.
Matlow was one of the biggest critics of how the city handled encampment evictions. His platform promises to spend $1.1 million every year to boost outreach to unhoused Torontonians, conduct a full review of shelter policies on security, bed checks, and locker spaces (as well as harm reduction), and spend $15 million to improve the city's shelter standards. He also calls for year-round respite services for unhoused people, rather than simply opening warming centres during extremely cold weather.
It may be tempting to think about these drugs as inherently dangerous, but Kolla points out that the government regulation of an equally dangerous substance—alcohol—has made it socially acceptable worldwide.
All of these investments may seem removed from public safety, but several experts told The Local that access to supportive housing is one of the best ways to address the dangers of an unregulated drug supply and violence. "Do you know how often it happens, when I'm talking to people who've had problematic patterns of crystal meth use while they're homeless, and then the minute they get housed, they stop using crystal meth?" Kolla asks.
One of the cornerstones of Chow's plan is the launch of new 24/7 respite centres so people can shower, sleep, and access critical services. As Lam points out, many unhoused people are in crisis, in public, because they don't have their most basic needs met. "We live in a reality where there are no washrooms, no food, no access to water, no housing, and so it's no wonder that people are in these states of desperation."
Meanwhile, Ana Bailão wants to introduce mobile mental health clinics to work in high-priority neighbourhoods and transit stations. On her website, she argues that other levels of government have underfunded and abandoned Toronto's mental health care: "Cities have become the frontline service providers for vulnerable residents all across Canada."
Mitzie Hunter believes Toronto needs more mental health and outreach support. Her platform also calls for a fairly comprehensive series of supports for unhoused and vulnerable Torontonians. They include opening 24/7 warming and cooling centres year-round, adding 400 new shelter beds and 2,000 new supportive housing units, as well as five new Housing Outreach Program Collaboration teams to help unhoused youth specifically. And just like Matlow, Hunter proposes investing in community organizations focused on mental health, youth homelessness, and violence prevention through funding increases to the Community Service Partnerships program.
Even Saunders and Furey support the use of social workers alongside police where possible. Jung points out, however, that communities with reasons to fear discriminatory policing—including people with mental health issues, unhoused Torontonians, and Black or Indigenous residents—may not find this proposal comforting. The presence of a police officer, even one with a social worker standing by, may still be alarming, and doesn't guarantee the safety of bystanders or the patient.
The road ahead
Whoever becomes the next mayor of Toronto will need to do a lot more than simply address enforcement if they want to improve both the perception of public safety, and its reality. They'll need to tackle a whole swathe of social issues, from gangs to unaffordable housing. Unfortunately, whenever these systemic issues get out of hand, says Jung, the thing most people notice is someone screaming on the TTC, or sleeping rough in their neighbourhood: the check-engine light, steadily blinking away.