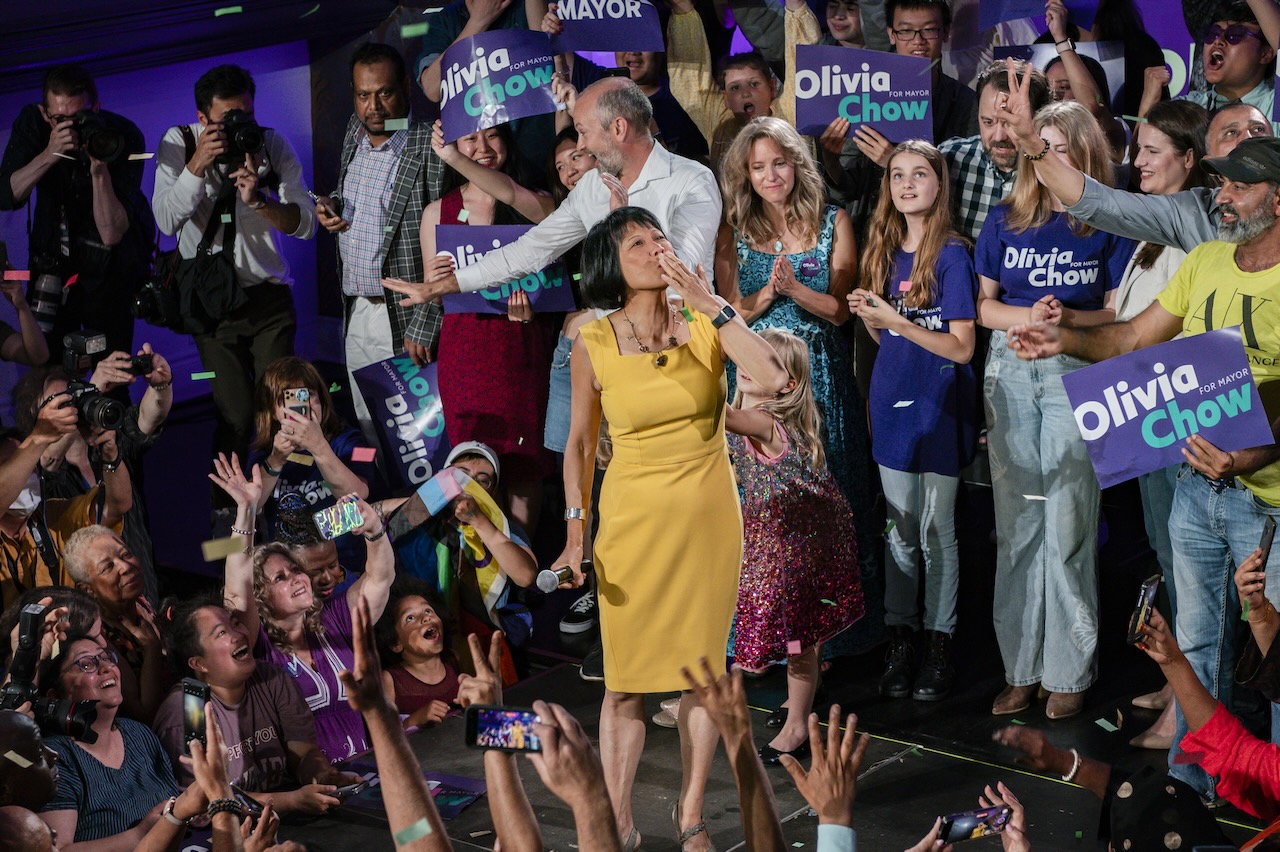 Thirty-seven years after first becoming a school trustee, nine years after losing the 2014 mayoral election, and two months after launching her 2023 campaign, Olivia Chow is Toronto's new mayor.
After enjoying a wide lead in the polls for the entire election, the final result was tighter than anticipated, with Chow winning 37 percent of the vote over Ana Bailão's 32 percent. Mark Saunders came a distant third, with less than 9 percent of the vote, followed by Anthony Furey, Josh Matlow, and Mitzie Hunter—all in the low single digits.
Results, All Candidates
The former NDP MP's win marks a sharp progressive turn in Toronto after a dozen years of conservative rule under Rob Ford and John Tory, whose abrupt resignation in February after The Toronto Star revealed he'd had an inappropriate relationship with a staffer triggered this mayoral by-election. Chow becomes the first woman to win in post-amalgamation Toronto and the first non-white mayor in the city's history.
At the Chow campaign's victory party at the Great Hall on Queen Street West, while Jully Black's "Running" played and a raucous crowd cheered, Chow thanked Toronto, praising the city as a place where "an immigrant kid from St. James Town can be standing in front of you as your new mayor."
She also acknowledged the challenges ahead. Chow will inherit a city facing a hole in the budget over a billion dollars, a desperate housing crisis, and falling transit ridership. Having vowed not to use so-called "strong mayor" powers, she'll need to build bridges with ideologically unaligned councillors and negotiate with the provincial Conservatives on a wide range of issues, from Ontario Place development to maintenance of the Gardiner Expressway to Metrolinx's transit construction.
"The work of changing a city left behind by a decade of neglect is not going to be easy," said Chow. "The work of change is always hard. We will face our roadblocks along the way. But I know we can make it happen by committing ourselves to each other and to the city we love. Our work to build a city where everyone belongs starts right now."
The Numbers
After a record-low turnout of just 29 percent in the fall, this by-election saw turnout of 38.5 percent, with a total of 724,638 Torontonians voting. Still, this figure is among the lowest in the last 20 years and well below the 54.7 percent turnout in 2014 when Chow faced off against John Tory and Doug Ford without an incumbent.
Voter turnout was uneven across the city, ranging from 24 percent in Humber River-Black Creek to 49 percent in Toronto-St. Paul's. Consistent with voting patterns in previous elections, residents of the old City of Toronto showed more enthusiasm for this contest than those living in other parts of the city.
Voter Turnout
Unsurprisingly, Chow's strongest voter base was old Toronto, where she averaged nearly 50 percent of the vote. She won by the widest margin in Ward 13—Toronto Centre, where she received 54.6 percent of the vote, a more than 30 percent margin over Bailão. She also beat her competitors on their home turf, winning by 19 points in Ward 9—Davenport, Bailão's former ward, and beating Josh Matlow in Ward 12—Toronto St. Paul's, where he is sitting councillor.
But Chow's biggest accomplishment of the night—besides that of becoming the city's next mayor—was her success in Scarborough. When she ran for mayor in 2014, her support was concentrated in downtown Toronto. She lost big in Etobicoke and Scarborough to Doug Ford, and in the rest of the city to winner John Tory—finishing third after leading for much of the campaign.
Olivia Chow: 2014 Campaign
This election, Chow invested a lot of time in the suburbs, particularly Scarborough, opening her first campaign office there and holding a rally last week. On election night, that work paid off. She won five out of six wards in Scarborough, losing by less than 0.2 percent in Scarborough-Rouge Park to Bailão, who was endorsed by local councillor and Deputy Mayor Jennifer McKelvie. Chow was competitive enough in the rest of the city to amass the 269,000 votes for the victory. In all, she won 15 of the 25 wards.
Olivia Chow: 2023 Campaign
The Other Candidates
Former councillor Ana Bailão, who ran a campaign touting her credentials as a pragmatic centrist in the Tory mould, received a last-minute endorsement from Tory late last week, who broke his promise to stay out the mayoral campaign (but did not appear with her in front of the media, where he would have faced questions about his relationship with a staffer). The late endorsement appeared to help Bailão, pushing her into second place with 32.5 percent, after polling in the mid-teens for much of the campaign.
With 102 candidates running, and at least half a dozen serious contenders in a race without an incumbent, what had been billed as a wide-open contest narrowed into a two-person race between Bailão and Chow, with no other candidate topping 10 percent.
Mark Saunders, the former police chief who ran on a law-and-order campaign, finished a distant third with 8.6 percent. Anthony Furey, the far-right commentator, received under 5 percent of the vote. Combined, the two conservative candidates in the race received far less than half of Chow's votes.
While the three sitting councillors and the recently-resigned MPP performed better in their own ridings than elsewhere in the city, the overall results weren't kind. Councillor Josh Matlow finished the night with less than 5 percent of the vote, losing in his own ward, Toronto-St Paul's. Councillor Brad Bradford, meanwhile, received just 1 percent of the vote (finishing sixth in his own ward), despite a seasoned campaign team and significant resources—a lower finish than grassroots candidate Chloe Brown, who had 2.6 percent of the vote with no establishment backing or fundraising support. Councillor Anthony Perruzza earned just 3,000 votes, for 0.42 percent.
Former Liberal MPP Mitzie Hunter, who left Queen's Park for this mayoral run, finished with less than 3 percent of the vote, and was unable to translate her hometown Scarborough support into significant votes in those wards.
Edward Xiao Hua Gong—the mysterious candidate whose company pleaded guilty to charges of running a pyramid scheme—tested the limits of what a campaign could achieve with no experience or name recognition but a seemingly unlimited postering budget, finishing 11th with nearly 3,000 votes (more than former councillor Giorgio Mammoliti).
A Historic Win
For Chow, the election victory marks a high point in a long career in politics. An immigrant from Hong Kong, she grew up in the working-class community of St. James Town. She began her political career as a school trustee in 1985 and was elected to what was then the Metropolitan Toronto Council in 1991. In 2006 she won her first federal election as NDP MP for her downtown riding, Trinity-Spadina—a stalwart progressive on the national scene alongside her late-husband, NDP leader Jack Layton. Since losing the race for mayor to John Tory in 2014, Chow has been training grassroots activists at her Institute for Change Leaders out of Toronto Metropolitan University.
Chow ran on a progressive platform that was in sharp contrast to the fiscal austerity of her predecessors, promising to have the city act as a developer to build affordable housing, reverse recent transit cuts, strengthen rental protections, and expand the city's non-police community crisis team. She's proposed a modest raise to property taxes and has promised to increase vacant homes tax and land transfer tax for homes sold for over $3 million.
The victory also marks a remarkable political comeback story. In 2014, during Chow's concession speech, she encouraged her supporters to keep faith. "There is a great definition of faith that goes like this: Faith is the confidence that what we hope for will actually happen."
In her victory speech on Monday, while confetti fell from the ceiling of the Great Hall, she told her supporters that their faith had not been misplaced. "If you ever doubted what's possible together, if you questioned your faith in a better future and what we can do with each other, for each other, tonight is your answer."